Prostitution in Las Vegas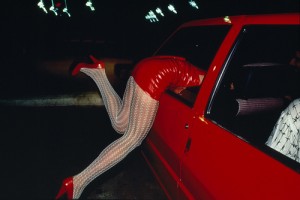 First thing's first: Prostitution is illegal in the city of Las Vegas.
That said, several counties in Nevada have legalized the world's oldest profession, so you can find legal prostitution about 60 miles outside of Sin City. Of course, there are a number of prostitutes working within the city limits, so if you are willing to take the risk and you know where to look, you should have no problems finding one … or at least someone who is willing to take your money.
The Legal Brothels
There are about 30 legal brothels operating in Nevada at the moment, and the majority of them are in the northern part of the state near Reno and Carson City. Nye County, located just north of Las Vegas, has fewer than 50,000 residents as well as legal brothels, so this is where you'll want to head if you don't want to drive for a whole day.
Nye County's largest city of Pahrump, which is home to two of the more famous legal brothels in Nevada. This is about 60 miles northwest of Las Vegas, but Amargosa Valley, Beatty, Crystal, Death Valley Junction and Scotty's Junction are also small towns with legal brothels, if you'd like to check out your options beyond Pahrump.
How Legal Brothels Work

Guests enter a bar or lounge area. In most cases, all of the girls working at the moment are asked to line up and introduce themselves. The guest can choose immediately, or he can order a drink from the bar and take his time choosing as some of the girls might do more to convince him of their charms. After the guest and the girl pair up, they go back to her room and negotiate a price in private for the services requested.
The unofficial minimum price is $100, but most girls fetch somewhere between $200 to $300 minimum for intercourse or about 30 minutes of fun. Former and current porn stars sometimes base themselves at the brothels for a week or two at a time, and they can charge $1,000 or more. Guests should negotiate everything up front if they have something special in mind. Most girls don't kiss on the mouth, but these girls are obviously not shy so who's to say what a bit more money might buy?
After the price is negotiated, the guest is asked to pay that amount in advance, and the girl will take the money back to the cashier before the real fun begins. Tips are extra at that point, but you should realize that the girl usually only gets half of the negotiated price and the house gets the other half. If the guest arrived in a taxi or limo, the driver will usually get a cut of the total too, so the girls appreciate extra tips.
Brothels Near Las Vegas

Chicken Ranch Brothel – This brothel has operated near Pahrump since 1976, and it's the most famous one near Las Vegas. There are 17 beds and a few theme rooms for people whose fantasies and budget can accommodate a bit more. For more information, check out the official Chicken Ranch site.
Sheri's Ranch – Newer and more upscale than Chicken Ranch, Sheri's Ranch features tennis courts, a spa, a swimming pool, a volleyball court and a sports bar. There are several themed suites and packages available. For more information, check out the Sheri's Ranch official website.
Getting to Pahrump from Las Vegas

If you are staying in Las Vegas, both of the brothels in Pahrump offer transportation services that will pick you up from your Las Vegas hotel for free and return you for free as well. Information on how to do this can be found on the specific brothel websites. Part of the reason they generously chauffeur guests around is the brothels have deals with taxi and limo drivers whereby the driver will get a percentage of whatever a guest spends, so when they pick you up, the brothel avoids having to pay another driver. If you have a rental car you can drive there yourself, but don't expect to receive a discount for doing so.
Illegal Prostitution in Las Vegas
We repeat: Prostitution in Las Vegas is illegal. It is true that it is tolerated a bit more in Las Vegas than in other cities across the United States, but there are certainly risks involved. The city has its fair share of honest prostitutes who are just trying to make a living, but there are also plenty of people who simply want to take advantage of tourists who knowingly enter into an illegal transaction and have no legal recourse when things don't turn out the way they hoped.
In addition to the fact that tourists in Las Vegas have no legal resource should things go wrong in a prostitution deal, there are also safety and health issues to consider. In addition, the local police departments set up sting operations throughout the city and especially on the Las Vegas Strip.
Finding Prostitutes in Las Vegas
Prostitutes are out and easy to find in Las Vegas, but it's nothing like prostitution in Amsterdam where the girls on are public display behind the infamous red-lit windows of the Red Light District. There is little street walking in most of Las Vegas, in spite of what movies might have you believe. There are a few areas, just as there are in most large American cities, where hookers and customers can find each other in public, but the majority of transactions in Las Vegas don't begin this way.
>>More information on Las Vegas escort prices.
If you look like you've got a lot of money and are looking for a good time, a girl might seek you out if you're hanging out at one of the hotel bars. This can lead to a variety of misunderstandings and is also one of the ways unscrupulous people can get a lot of money off a visitor by doing nothing in return.
By far the easiest way to find available prostitutes who work in Las Vegas is through the many newspapers that fill various street boxes and newsstands up and down the Strip and in downtown Las Vegas. These free newspapers, sometimes called bachelor guides, are filled with ads from "escorts" or "models." In recent years, an influx of low-wage workers have been hired as "card snappers" to hand these ads out to people passing by on the Las Vegas Strip.
The ads are rarely subtle or clever. They often use photos of a famous model or porn star under a generic name like Angel or Sapphire, but the actual girl being advertised might only vaguely resemble that photo if she resembles it at all. The ads all have phone numbers and occasionally website addresses, so contacting the girls is straightforward.
It's hard to say what one's chances of being hustled are calling a girl this way. Chances are the girl won't look nearly as good as the photo, but chances are also pretty good that she'll show up when you call and will be ready to perform in exchange for your money. If you get ripped off using one of these services they know you can't report them to the police, so it's up to you to be careful and take your chances if this is how you'd like to try to find a prostitute in Las Vegas.
Plan Your Las Vegas Trip
If you're planning a trip to Sin City, take advantage of cheap airfare to Las Vegas in order to save your money for other activities. Make your hotel reservations in advance to ensure you have a place to stay. Those in town for a bachelor's party might enjoy staying at Hard Rock Hotel or Planet Hollywood.
>>More information about strip clubs in Las Vegas.
>>More information about nightlife in Las Vegas.
>>More information about how to get to the front of the line at a Las Vegas nightclub.
>>More information about pool clubs in Las Vegas.
Photo credit: camera viva